QJ saw GH:World Tour in Singapore and can't stop thinking bout it ever since. He went back last weekend and got himself his new 'toy'...box damn big but happy happy oso him drag the whole box back from the shop...lucky Razzman was going back that day so we got a lift back to Melaka...
Guitar Hero: World Tour...the new set from the Guitar Hero series. Now finally we can multiplayer with the game...featuring loads more songs, downloadable songs and you can even play with your friends online (i think)...but given our infamous net connection in Malaysia...hmmm...forget it.
GH:WT comes with the original game, a brand new design of the guitar (feels so much better compared to the first one, drum set, and a microphone for karaoke-ing purpose.
Now we can play with full band set, guitar, bass, mic and drums.....
....only stupid thing is, each of those equipments (even the bloody wired USB mic) needs a Wii remote to control them. Stupid right? So yeah....391D is now open for donations for purpose of buying Wii-motes for better multiplayer experience (haha)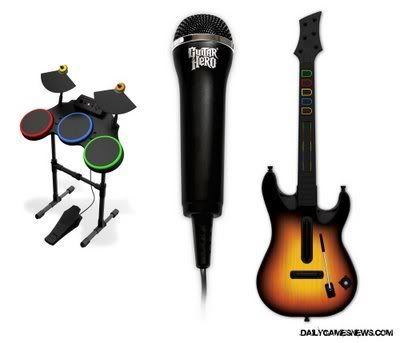 This is how the game looks like with full band. Hmmmmm....yerp we definatly need a new TV to see all the stuff better....lol!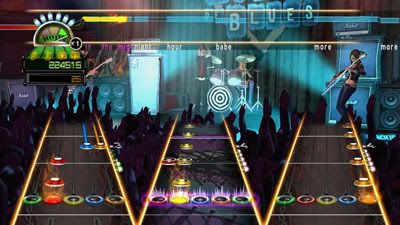 Now...when's the next BBQ session at 391D? Anyone? :D
p/s: Last 3 images courtesy of....random other sites >.<