Happy Birthday Dad :D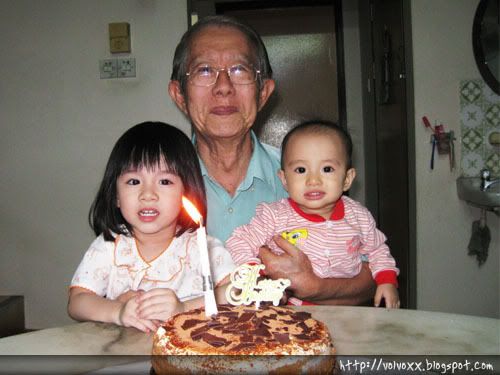 Couldn't celebrate dad's birthday last year cuz my ITP was starting the very next day, so I made it a point to be at home this year (instead of lingering around in KL doing...well..nothing :P ). More pics and recipe after the jump!
Well...this isn't exactly the first celebration we had with dad. We had a joined celebration last last weekend when my eldest sis was around, while celebrating my notty niece, Minn-Yi's Birthday as well. (Well she had another celebration with her maternal grandparents in Penang as well..lucky kids these days)...
Decided to make 'instant Tiramisu' for dad (instant cuz, I didn't bake the cake...hahaha!...just buy the sponge cake and assemble the whipped cream and cream cheese on top :P )...sumthing I wanted to try before trying the ACTUAL Tiramisu. Damn mascarporne is bloody expensive.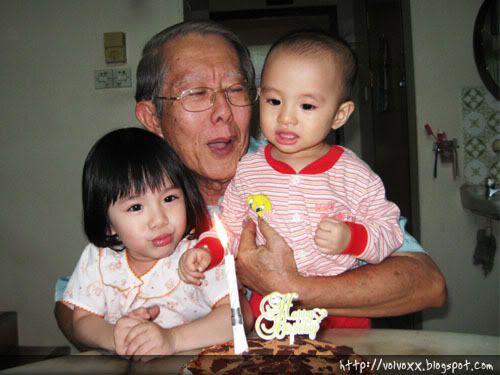 Happy granddad with granddaughters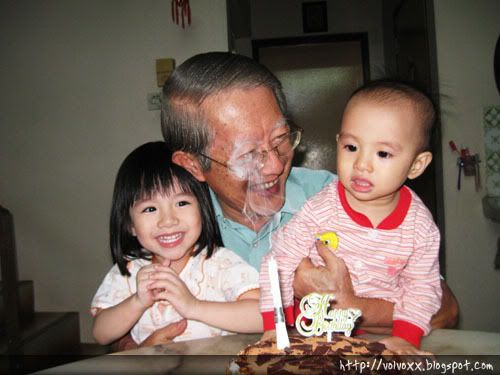 damn.smoke.bleh. Would have been a lovely pic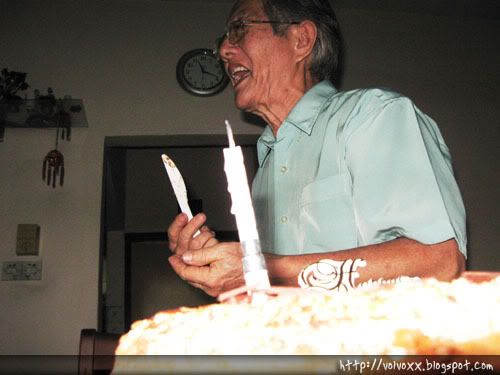 "Ok who wants cake?"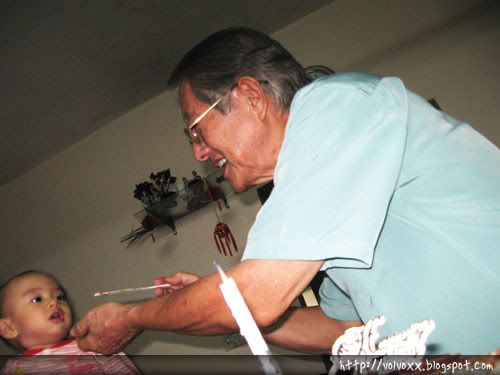 Om nom nom nom nom...(it had liquor btw...bwahahaha...training the kids to have head start in taking alcohol. The girls in the family all drink better than the guys... XD )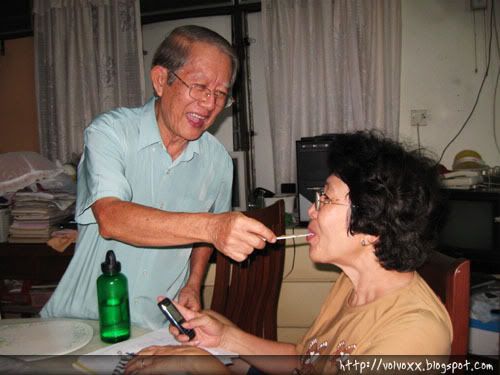 *koff* romantic moment with the wife (who is caught texting on her phone..XD )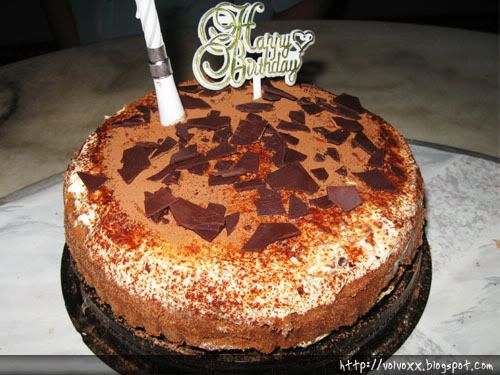 'Instant Tiramisu'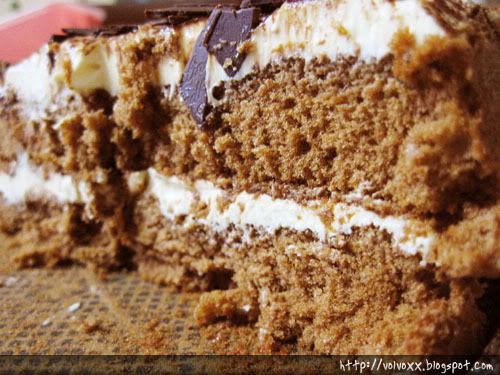 The cake turned out drier that I'd like it to be (didn't put all the coffee cuz I was scared it'd be too soggy...meh guess I should have), and the cream was a bit more sour to my liking. Adjustments to be made in next attempt :P

Asian Tiramisu
, taken from
kuali.com
Cream cheese layer:
250g cream cheese
8 tablespoons whipping cream
1 tablespoon Kahlua (I used Tia Maria, coffee based)
**maybe next time I'd add a beat in a bit of icing sugar too
Chocolate sponge:
1 eight-inch square good quality sponge cake (I bought a box of chocolate sponge cake from Tesco. Make sure you don't mistakenly buy chiffon cake instead!)
1/2 cup Ipoh white coffee
2 tablespoons brandy
Topping:
50g dessicated coconut (didn't put. Dun like. ugh)
25g powdered (icing) sugar
25g cocoa powder
50g shaved chocolate
Method
Beat the cream cheese and whipping cream to a smooth consistency. Then beat in the Kahlua. **Add icing sugar if desired (to taste).
Cut sponge cake into half. Brush the top of the sponge with the coffee and brandy mixture. Repeat with the other half until coffee is used up.
Lay one piece of the soaked sponge cake on a flat, rectangular tray and top with half the cream cheese mixture. Sprinkle on half the coconut flakes. Top this with the other piece of sponge cake, spread on the rest of the cream cheese mixture and sprinkle on the coconut flakes.
Dust with the icing sugar and cocoa powder. Refrigerate the cake for at least an hour, preferably overnight. Serve with some chocolate shavings, if liked.