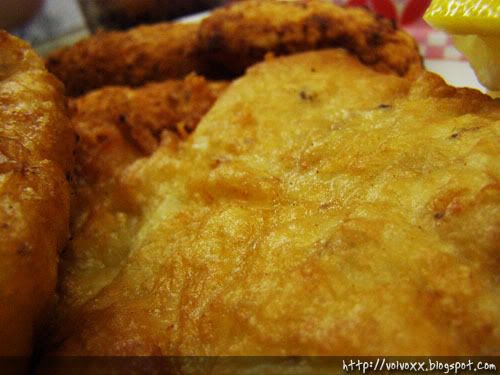 I looooovvvveeee fish chips but some restaurants can really screw up the fish chips that it makes me think twice before ordering. My sis had tempted me before with beer batter fish chips somewhere in Penang and it made me crave for it ever since. Figured it shouldn't be too hard to do, since I've fried fish chips before using Jusco's tenpura flour. So I googled for the recipe and found one from Videojug. Here's what I came up with...

Ingredients
2 fish fillets (cod, haddock, or any other white fish) - I used sutchi fillet from Jusco
140 g flour
50 g corn starch
1 tsp baking powder
1 egg
250 ml beer
1 tsp salt
salt and pepper
1 ½ ltr vegetable oil or ground nut oil for frying
**note: I had a LOT of access batter after frying 3 large fillet. I'd suggest reducing the portion to half or quarter to avoid wastage.
Method
Prepare fish. Pat fish dry with paper towel. This will make it easier to fry. Besides, excess water will make the fish less crispy. Make sure there's no bones in the fillet by running a finger over the fillet.
Make batter. Mix plain flour, corn starch, salt, and baking powder in a bowl.
In another bowl, mix beer and egg. Whisk until evenly combined.
Combine the flour and the beer and egg mixture. Whisk until smoothly combined and lump-free.
Test oil temperature by dropping a drop of batter into the oil. If it fries immediately without burning then its just right and not too hot.
Dip the fish fillet into batter. Make sure its completely coated. Carefully place the coated fillet into the hot oil. Do not overfill the pan as it will reduce the temperature of the oil. Fry them one by one.
Fry for 4-7 minutes before turning the fillet, depending on the size of the fillet. Remove from oil when fillet is golden brown in color. Transfer the fillet onto a tray lined with paper.
Serve with chips or french fries.
I served the dish with croquettes along with mayonnaise, chopped onion and lemon dipping. Other dipping that can be used is mixture of mayonnaise, crushed garlic (optional) and mustard.
Recipe for croquettes can be found here.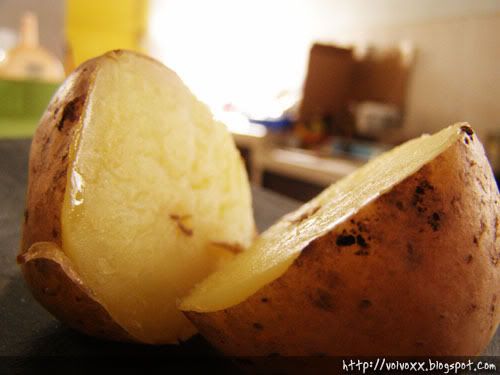 Potatoes for the croquettes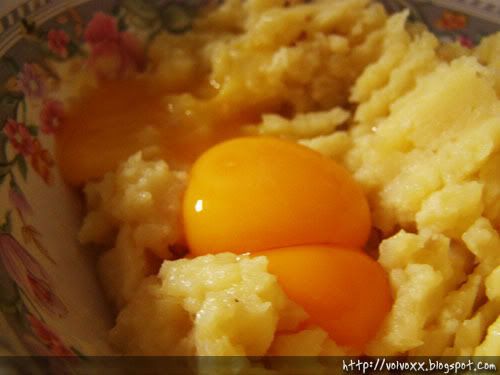 Egg yolk in the mashed potatoes for the croquettes.

The fish chips was probably a little undercooked. Maybe next time I'll cut the fillet into smaller piece and fry instead. The recipe for the batter is ridiculous IMO. Made so much more batter than I can use. Bleh..what a waste of good beer in the leftover batter that I had to throw...

Overall..it was a good meal and I think I'll try making it again (maybe not so soon...since I kinda forced QJ to eat fish that day :P )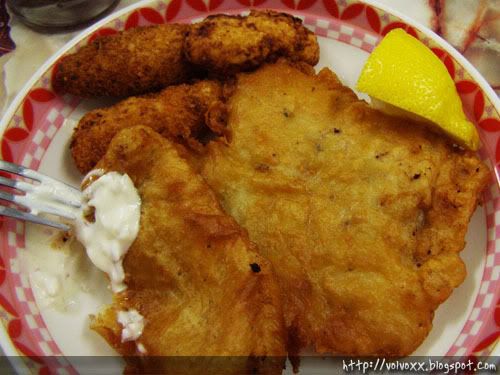 The final result.