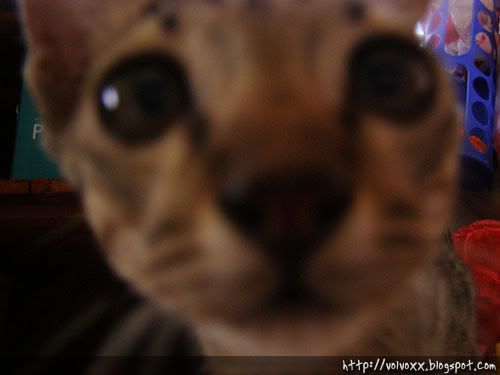 This will be the first thing you'll see in the morning, should you bela this cat. ROFL.
I don't quite understand why..but it seems like everytime semester break approaches, some lost kitten will wander into our house and we'll be in a dilemma whether turn it away, or keep it a few days until we're about to leave the house and then turn it away then.
Kat, the Christmas cat
was one of those cases. The other time it was the litter of kittens we found right before heading for Genting back in 2006/2007.
Just today, right after lunch, we heard some mewing outside the house. Opened the door and saw a teen-cat mewing across the road. Thought I'd go check it out, but when I call out to it, it ran straight to our house. Rare to have such tame kittens. Usually they'll just run away when they see you.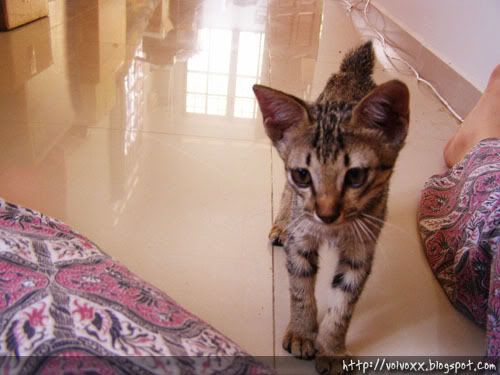 Kitty has an obsession with feet. It will follow anyone closely by the feet wherever you go. When a new set of feet enters the house, it'll scramble towards it and follow the new feet instead. Weird kitteh!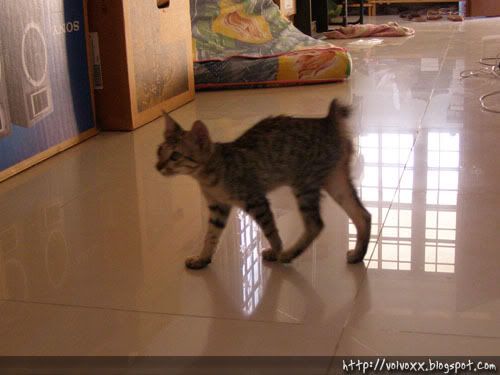 Little kitty making itself at home
This lil kitteh wasn't as fun as Kat. Kat would chase QJ's d20 dices non-stop! And it'll play with the string-thingy whole day if you play with it. This one....took a lil coaxing before it started paying attention to those things. One thing's for sure, this kitty's very very VERY manja. Will come lie beside you on the bed and rub against you :3 ...it wasn't very dirty too, cause otherwise I'd have allergies all over my palm.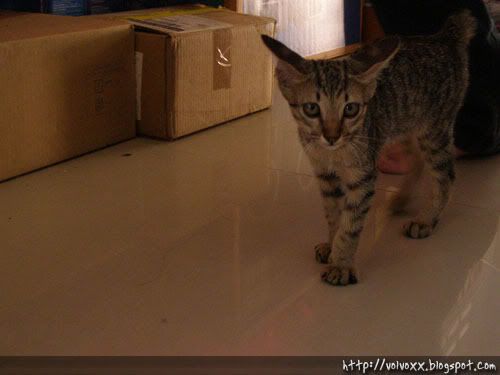 At first it just mewed loudly, like it was hungry. Since I was low on supplies, I didn't have much stuff to feed it. Boiled a sausage to feed it and...boy it was picky. It would nibble a bit, then ignore the rest of the slices, then come back for it much MUCH later. Peculiar picky lil bugger.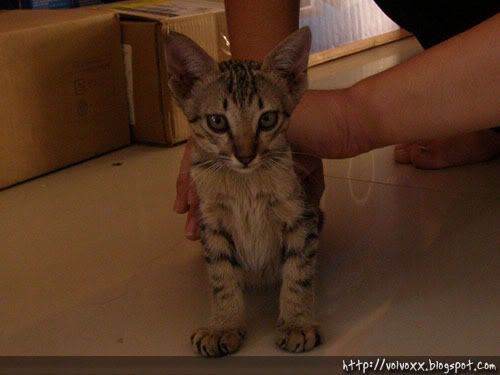 Visitors to the house couldn't stop
bullying
playing with kitty. Didn't stop it from keep coming back tho. It went off after dinner tho. Dunno where it went but it'll be safe I guess. Wonder if it'll come back tomorrow ;P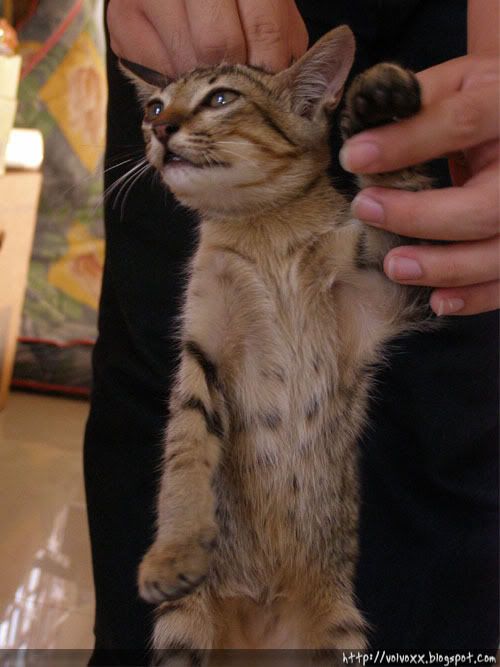 O hai. Nais to meet yous.