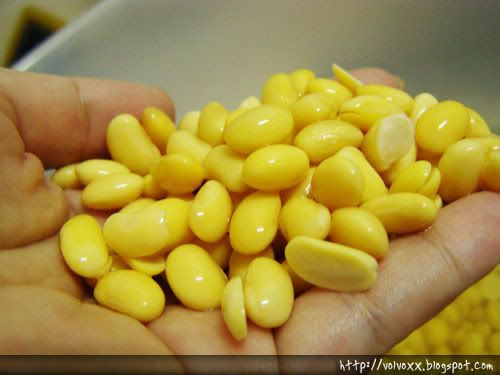 Towards the end of my holidays spent at 391D, I was chatting with my sis when she told me she just made soya bean milk the night before. Lately, I've been loving soya bean milk quite a bit. Would buy them whenever I go pasar malam (which is sadly, not often enough) so when she said it was really easy to make them, I got curious and ventured out to buy some 'yellow beans'.


It was really quite funny at first because, the guy tending to the store wasn't exactly sure that the packet of beans on the shelf was the correct bean to make soya bean milk cuz it was his brother's store. So...it really was kind of a trial and error sorta thing.

Mum and aunt tried this before last time...but it left a raw-ish aftertaste that they didn't fancy doing it again. Didn't quite liked it either. So I was rather surprised when sis told me she found a tip to remove the raw smell from the milk.

Here's how to make some, if you're feeling adventurous (and not too lazy). Recipe taken from
http://www.soya.be/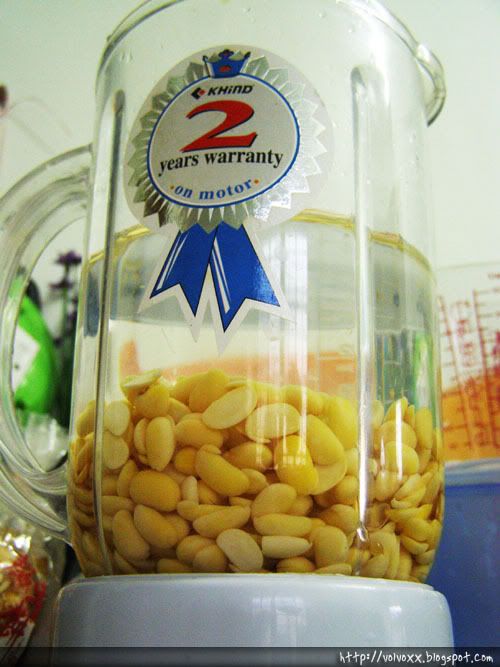 Soya Bean Milk

Ingredients

125g whole soya bean (chinese minimarts around my area called it 'big yellow bean')

1 liter water

about 1-2 tsp corn flour

sugar to taste

Method

1. Soak the soya beans for 10-14 hours

2. De-hull the soya beans. Rub them together with your hands to remove the skin. This step is optional but it makes the extraction process more efficient. Drain the water.

3. The website recommends to heat the soya beans in microwave for 2 minutes to destroy the enzymes responsible for the development of 'beany flavour' in soya milk. This step is optional and I did not follow this step because...I didn't have a microwave there. That, and I had another method to remove the raw beany smell (see step 6).

4. Blend the beans with water until they form a smooth texture. Blend them in batches if necessary.

5. Pour out the blended mixture and sieve the mixture through a cheese cloth (or any clean fine cloth). Drain all the milk into a pot to be heated later. The material that is left on the sieve is known as okara. According to the site, it can be used as ingredient to make bread, or as kettle feed. I tossed them into my compost pot and on top of my flower pot. I...hope my plants are still alive :D.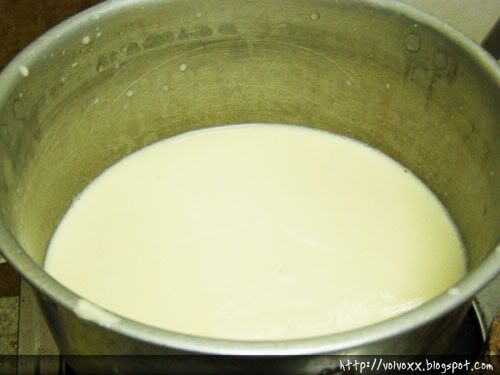 6. Mix in 1-2 tsp cornflour and stir well. This will help remove the raw beany flavour as well as thicken the milk a little. Make sure you don't put too much corn flour else it might get too thick.

7. Heat the milk to boiling point and continue heating for about 5-10 minutes, stirring and checking that the milk is not burnt at the bottom. Add sugar to taste.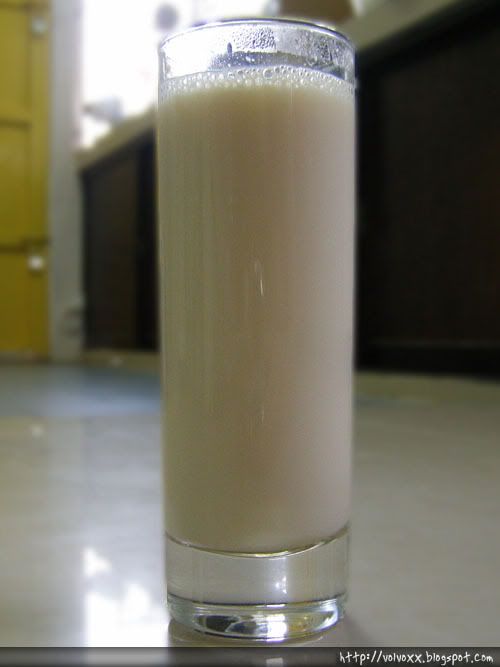 And you're done. :D

When cooled, the milk may form a thin layer of 'tauki-like' substance. This is normal. Just remove the layer before drinking.

Some may say, so much hassle, why not just buy a cup outside? RM1.00 only ma? ....well...its really much more satisfying to drink what you made yourself. Plus, the home made ones are not overly sweet or overly dilluted with ice and water. So do try it out if you have the equipment and time to do so.