We bought quite a bit of big loaves of bread this semester, and as a result, there's always 1-2 slices left when it expires. What I'd do is, check for mold, and if its clean, toss it into the freezer.
Figure since semester break is approaching, I'd do something with the bread before having to toss them all out to the garbage truck. Decided to make bread pudding, something Amran made quite some time ago (and made us think of it long after it was finished).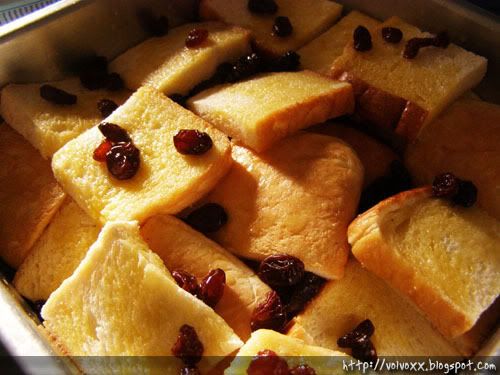 Bread pudding: simple way to getting rid of those old breads.
Did a bit of digging from the net and found
this recipe
.
Ingredients:
6 slices day-old bread (or in my case...many days old frozen bread :P )
2 tablespoons butter, melted
1/2 cup raisins (optional, but recommended. One small box of those Ligo raisins will do)
4 eggs, beaten
2 cups milk (roughly 2 boxes of 250ml UHT milk)
3/4 cup white sugar
1 teaspoon ground cinnamon
1 teaspoon vanilla extract
Directions
Preheat oven to 175

°

C (350

°

F).
Break bread into small pieces into an 8 inch square baking pan. Drizzle melted butter or margarine over bread. If desired, sprinkle with raisins.
In a medium mixing bowl, combine eggs, milk, sugar, cinnamon, and vanilla. Beat until well mixed. Pour over bread, and lightly push down with a fork until bread is covered and soaking up the egg mixture.
Bake in the preheated oven for 45 minutes, or until the top springs back when lightly tapped.
Note: I tried using more bread for the recipe, but it resulted in thicker pudding and less crispy so if you prefer thinner, crispier pudding, try with 6 or lesser bread.
Drizzle melted butter over bread. Sprinkle raisin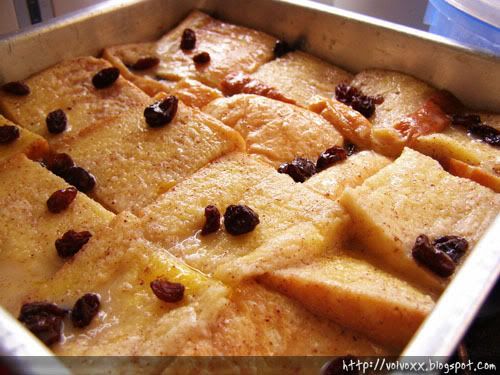 Soak in egg+milk+sugar+cinnamon+vanilla mixture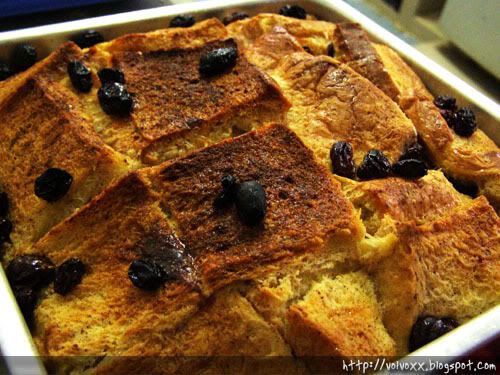 Bake for 45 minutes