As of last Friday, I'm officially 'jobless' again...hahaha :P ...I've finally finished my 12 weeks period of industrial training with Express ICT...We've (me and my fellow interns) been waiting for this day for a long time but for me, but when I was walking out of the office door for the last time...I have mixed feelings bout leaving.
Firstly, my boss is one awesome guy, we couldn't have asked for a better supervisor...then there's the job scope, which I actually really like. I have probably mentioned before that I've always wanted to learn about PHP and etc, but never know where to start...doing my internship here in ExpressICT, is like hitting 2 birds with 1 stone....and yes, I've picked up a lot on PHP and web hosting...and I'm really glad that I've been assigned there.
The only 'ugh' part about this job, is the unfamiliarity with new 'stuffs' and not knowing how to use them, best example being OSCommerce. OSC is a shopping cart system that many of our clients use in their website...so obviously, we had to deal with a lot of OSC related issues. Not only were we not familiar with OSC (we've each trashed at least 2 fresh installation of OSC before finally getting it to stay 'error-free' for further testing purposes), OSC has their own 'language' in their scripting which is not very easily understandable so modifying/customizing them is SUCH A PAIN...royally! I did get a few stuff my superior wanted me to do using OSC but evertime we had to do it, we all dread it. I wish my junior interns luck in taking over our place....they WILL need it.
We all thought it would be easier on us on the last week, since we needed to hand over our jobs to the newer interns. They're both not familiar with PHP (but one of them know html and the other knows mysql so its fine i guess :P ) and we didn't want them to 'langgar dinding' as much as we all did....but noooooooo....clients have to all call in at the same time and 2 of us were rushing to finish the minor changes here and there as per requested by our clients. The 2 interns either get to just 'lepak'....or they might have to do some script writing on the other leftover PC..but yeah...both me and my colleague agreed that our last week, was the worst, busiest one. Meh.
But well...all was well...and my big boss even treated us to this 8 course lunch (meant for CNY menu I'm sure) which cost a bomb (we joked that it was enuff to hire another one of us for a month) and stuffed ourselves silly....but too bad that my direct supervisor couldn't join us. Heck, he wasn't even around when we left on the last day so no pics of him :( ...meh. Ah well...
That's about work...now off work:
I've been surprisingly excited and curious over the upcoming expansion for Magic: The Gathering's Alara set (Nicol Bolas...woooo) and a conversation with Quj during my last trip back Melaka kinda made me wanna work on a mini-project of sort: a deck proxy generator. The first parts were quite easy. The form interface made me think awhile, as I'd want it to be user friendly, easy to use, and yet still flexible if you decide to write down your own card type. The database structure had to be modified a few times...random aprostrophes gave me quite a headache and wrong placement of while loop made me go Aaaaaaa....but as of last night.........I think I've gotten the whole thing up and running...only 2 things left to do now: fix the page printing (now it overlaps to the next page and the deck is sorta....cut off halfway) and fill the database with MTG's many many many cards ...that...is gonna take awhile....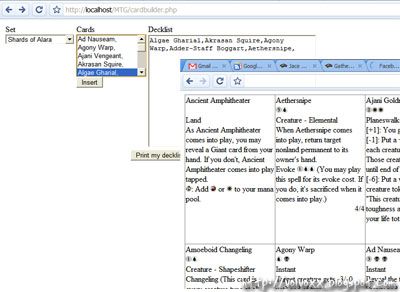 I surprise myself getting so interested in Magic.... (no Quj, I'm still not playing for Nats >.<)
Nuffnang gave me 2 free movie tickets for tonight's show: Rise of the Lycans...yay...hope its good :P

Now back to my drama....~ Laters!