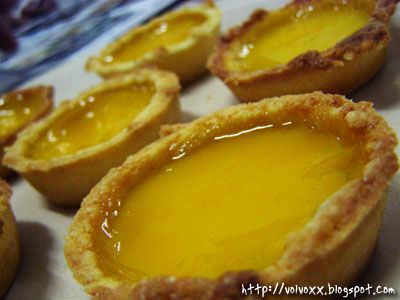 Been wanting to try these forever...ever since my sister tempted me with photos of her making them with her friends....dah la I have a soft spot for egg tarts :D
Finally had a chance to go buy yellow coloring that day (I think can go without it actually...lol!) so took the chance to make these tarts since I was kinda free. Plus...some of the DND guys were here too so I had some 'guinea pigs'... :P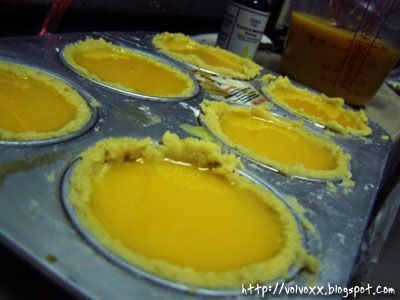 I didn't have the proper tart mould...so I used cupcake mould instead. Works too (but I think the other would would be easier to handle). The crust turned out a bit wetter than I expected and I ran out of flour to fix that....so I had a bit of trouble getting them into the mould at first.
Recipe below is given by my sister...I don't know where she got it from :P
Egg Tarts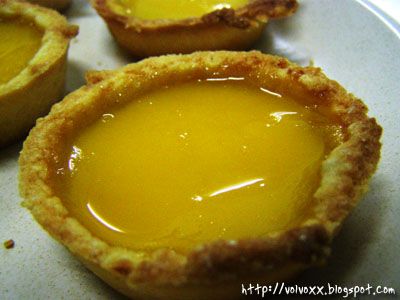 Tart crust
250g flour
15g milk powder
60g caster sugar
170g butter
40g beaten egg (I used 1 egg...but the crust turned out kinda 'wet' :P )
1/2 tsp vanilla essence
1. to make crust, combine flour, milk powder and caster sugar. Rub in butter until mixture resemble bread crumbs (I used a blender...similar like how I mix the pie crust in my other recipe). Add in beaten eggs, knead to form dough.
2. wrap the dough in plastic wrap, refrigerate for half an hour until ready to use.
3. roll out enough of dough, place into mould.
(I used the end of my 'small roller'...wrapped with cling wrap, to press the dough onto the mould)
4. Touch some flour on both thumbs. Press the dough, trim off edge.
Custard filling
340ml water (I think the custard's a little watery...might wanna reduce amount of water a bit)
120g caster sugar
4 eggs
50ml evaporated milk
1/2 tsp vanilla essence
few drops yellow colouring
1. Bring water and sugar to boil, remove and leave to cool.
2. whisks eggs, combine with cooled syrup and the rest of the ingredients. Lastly to adjust with yellow colouring.
3. bring filling through sieve, then pour into tart cases. bake in pre-heated oven at 180C for 18-22 mins.
Makes about 20-30...depending on size of the mould.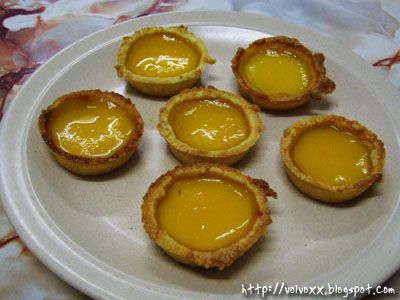 Happy Baking!