Wanted to blog about this like...2 weeks ago but somehow totally forgot about it..meh~

Anyways....yeah....another reason why gmail's so cool you have no other reason to be using other mail service providers.
Aside from gmail having on-page chat popup with webcam enabled (i'm talking about web-messenger webcam chats) chat archive storage, 7GB+ worth of email storage space, mail forwarding, multiple choice of theme to choose from, mail tag/label categorization etc etc....they've recently added a feature that I REALLY REALY love.
Remember when you have to attach multiple files but don't want to zip them up in a zip file before attaching? Used to have to select and add one by one...and some mail providers even limit the number of attachment uploadable at one time. It was really really annoying.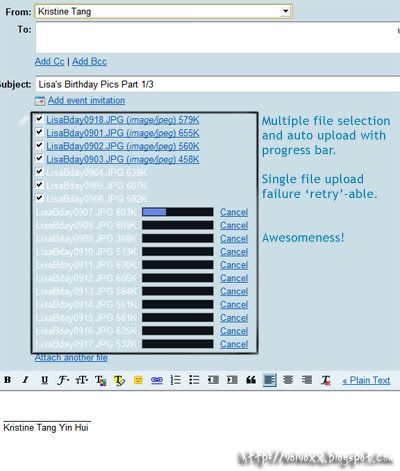 Gmail somehow managed to solve that, by enabling multiple file selection during attachment file selection...and it'll auto upload once those files are selected. That means you can type your email while gmail uploads them for you. They even have a progress bar to show you how much of what file they've attached. And if an upload of a single file fails, they will let you know, and give you an option to retry attaching the file. Facebook photo uploading tool shud learn a bit from google this way. Freakin frustraited with multiple attempts of failed photo uploading. Pftttt...
So if you haven't already been using gmail like you should long long time ago...you should start now :D...
p/s: yes Google Reader rawks too