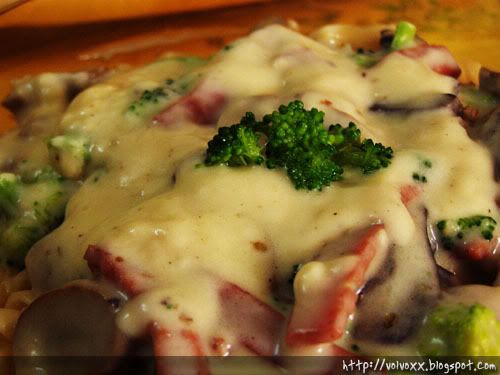 My first white-cream (alfredo like) pasta, finally!
Kid will go all "this is turning into a foodblog" again...lol! I'm following a few foodbloggers and I'm pretty sure mine's nowhere near them. Hats-off to them.
Anyways...here's the recipe.
*edits are my own added suggestions
Mushroom Fettucine
by Amy Beh, taken from Kuali.com
Ingredients
# 200g dried fettuccine pasta (*edit: or any other pasta)
# 1 slice streaky bacon rasher
# 100g shitake mushrooms, sliced
# 100g broccoli, cut into small florets
# 1 tbsp butter
# 2 tbsp plain flour
# 400ml UHT milk
# 40ml whipping cream
# A little parmesan cheese (*edit: kiamsiap me used cheddar instead)
*(edit) May add chicken meat, sliced. Seafood might be nice too.

Seasoning
# 1/2 tsp chicken stock granules
# Coarsely cracked black pepper
# Salt to taste
Method
Cook pasta in a saucepan of salted boiling water according to packet instructions or until al dente. Remove pasta and drain in a plastic colander. Blanch the broccoli in the remaining water.
Heat a non-stick frying pan over medium heat; panfry bacon and mushrooms with just a little oil for 4–5 minutes. Remove and set aside.
Melt butter in a clean saucepan over medium heat. Add flour and cook, stirring for 20–30 seconds or until well combined. Remove saucepan from the heat and gradually whisk in the milk and whipping cream until well blended.
Put saucepan over the fire again and cook, stirring for 3–4 minutes or until mixture starts to boil and the gravy thickens. Add seasoning.
Return pasta to the saucepan and stir well to combine. Add the precooked bacon, broccoli and mushrooms to combine.
Dish out and serve in individual bowls. Sprinkle with a little parmesan cheese.