Holidays so far has been 'stuffy'. There's just too much good food around.

Quj and I set off to KL with Amran on 11th morning after I had a small 'gathering' dim sum session with my alpha PE01 friends, 2 of them from Cyber. Thought I'd wanna sleep on the car but turned out chatting all the way. Thankfully, wasn't too sleepy even though I haven't had any decent sleep for the past 3 days.

We head off to Times Square and got ourselves tickets to Resident Evil: Extinction. RM12 for the both of us. Thank goodness for student rates. The movie was decent. Not great, not too bleh, but quite ok (that chick IS hot). The ending sucked tho. I really really hate it when they end it that way. Tho, if you ask me if it was worth watching, I'd say you can give it a miss.

Lunch was at Secret Recipe. QJ and I decided not to order the 'ordinary' stuff we usually order at SR (but heck, the last time we dined there was months ago). He had this kebab dish (which made me really wanna make some myself) and I had macaroni. Yummilicious :9


..... /peeks outside the window. I....just saw 2 cows chasing each other on the main road outside my brother's apartment. YES, 2 cows RUNNING on the damn road. RUNNING!...wtf? Really, its the first time I see cows run that fast. O.o

Um...okay OOT. Where was I? Secret Recipe. Kinda sad case really, that their cake quality somewhat dropped. Or prolly its just the portion for the price I pay (tho that piece of cake we got was free, complimentary from GSC)...sigh.

After a few hours there, it was getting late and we decided to check out Pavillion, one of the new mall in KL. The place is a freakin perfect place for window shopping. And by 'window', I mean just looking from outside the shop. Most, if not all the shops there, look so spankingly expensive, I just don't feel like going in at all. In fact, if it wasn't for the donuts, I wouldn't have gone there at all.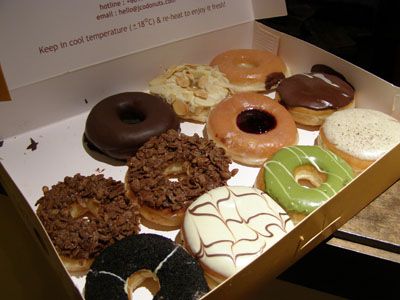 J.Co Donuts! You've gotta love them..



What donuts? J.Co Donuts and Coffee of course! Well, yeah, I've been pretty excited over this for a while now and after sinking my teeth into my first J.Co donut, it clearly does not disappoint me. The texture of the 'bun' is much more lighter and fluffier than Dunkin's and the flavoring is less sweet and more 'real' than Dunkins. Take the chocolate ring one (leftmost, first row). The chocolate doesn't taste too sweet and has a bit of dark chocolate taste. The one with almond on top smells very nutty...another one I'd recommend. Tira-miss-u (last row, rightmost) has a bit of coffee powder on top of it, and if you like them sweet, try Glazzy (first row, rightmost). Sadly, the Oreo one is nothing to shout about. A bit of disappointment, that one. I can't remember what the crunchy ones were (2nd row, leftmost) but sis says they're really nice. Paying RM35 (inclusive of tax) for 2 dozens, I'd say its very much worth it.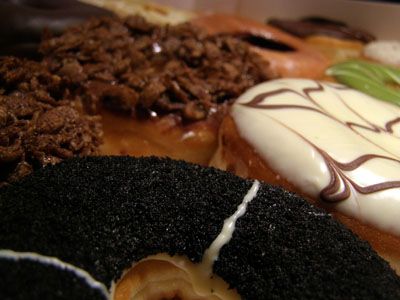 Yum!



Dinner was at PastaMania, this pasta fast food chain. QJ had it before in Singapore and liked the idea very much so we decided to give this one here a try. For a 'fast food' pasta, the Chicken Bolognese was actually very nice! They had this special soup, really makes me feel like going back for more. QJ ordered spicy chicken, which is really spicy, which also makes me wonder why all of a sudden would QJ order sumthing so...spicy. I find it unique and special, but not something I'd be ordering. After finishing our meals, we walked around for a bit more and head home.

My 2nd sis and bro+family came down to KL the next day. I...was busy pigging on my eldest sister's (oh so comfortable) bed. Thankfully, eldest sis had half day off and came home to fetch me to Ikea, where my bro and 2nd sister is. Bro was going to a friend's wedding in Malacca so my 2nd sis tagged along to have a shopping fiesta. She 'puasa'ed from shopping for a month before her trip to KL so...yeah. After sending bro and family off, us 3 sisters spent the rest of the day in One Utama. Dinner=sushi from Jusco at 20% discount. Nyehehe.

The next day, we all woke up around 9am without alarm. Sis said "Must be the shopping deities calling". LOL! Had brunch at home cuz my eldest sis had a LOT of food she tapau-ed from her trips to Pasar Ramadhan. Rendang, lemang, ketupat, curry, serunding: We were like celebrating Raya (and having a mini-open house) itself! My eldest sis' fridge was so stuffed, we joked that if got darurat oso she wun starve for 2 months.





Food from Pasar Ramadhan - Day 1



After lunch and pigging around the house, we head off to Bangsar Village II which was very much of a disappointment despite all the hype I heard about it. Eldest sis took her to nearby boutiques (Little Black Book, Cats Whiskers, etc) and she went gaga over the clothes there. It rained throughout the whole time she was shopping for her clothes but rains heavier everytime we wanna move from one boutique to the next. My eldest sis was pretty much drenched, as she was 'ferrying' us across the street, cuz 3 of us only had an umbrella. Pretty smart huh? (eh..at least got 1!) After she was done, we decided to check out Mid Valley and the newly opened Gardens.

Eldest sis and I raised white flag. We told my 2nd sis to call us up when she's done with Mid Valley, while the both of us went to San Francisco Coffee to lepak. I love the coffee there, much more than Starbucks and Coffee Bean. Gardens is a bit like Pavillion, except somehow, its doesn't reek so much of the aura I get from Pavillion (the aura that scares me off...) The building architecture's pretty interesting. The shops there are mostly expensive, but I DO see Italianies there (cheers!) and I heard Paddington's is opening there soon!

Cheapskate us decided to go back MV to check out Jusco's sushi...again. So we had another meal of sushi that night, again. But since it's sushi, who am I to complain? :P



...to be continued

(cuz I'm freakin sleepy!)