Day 3 in KL. Lunch was 'Raya' food again. Ketupat, ayam golek and curry plus leftover lemang and rendang from the day before.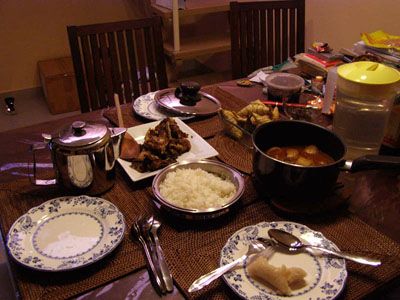 Food from Pasar Ramadhan - Day 2
After lunch was The Curve...just because we wanted to go to the flea market....which was no longer there when we got there cuz it rained! Dammit this freak rain thingy!
Anyways...the moment we go up from the parking bays, we girls were stuck! Metrojaya having lingerie sale! ROFL!! Took ages to get to try them on but got myself ...ahem ahem..sumthing :3...you dun need to know what precisely (but is it really that hard to guess?) :P Decided to head to The Apartments to check out the Cuppacakes that everyone's been raving about (even Flavours magazine).
2 words: Overrated, overpriced.
WTF? Those damn cupcakes were so freakin small! I mean, if I'm gonna pay RM4 for this thing, I'd expect small muffin sized cupcakes. Its quite nicely decorated, yes, but the design's rather simple. I've seen better ones online (check out this
girl
.she.is.good). The taste are just, allright - nothing explosively good. The coffee's a tad bit expensive but I guess the price is usually around there. One thing great bout Apartments is definately the ambiance. I mean, they use a bed for a couch! Very much like how I use mine for my PC chair/couch/bed. Its very cozy and its somewhere you'd wanna be lazing around spending your weekend chatting with a friend. I give them credit for that. Their crew's service...sux. Took them 5 mins just to get our bill (and that's after my sis went to remind them)...one of them accidentally scraped icing off one of the cupcake while bringing it out to serve, ignored the fact that he spoiled the icing, and served the cake anyway. If I was the customer, I'd ask for a new one, since we all pretty much go there for the 'pretty cupcakes' anyway.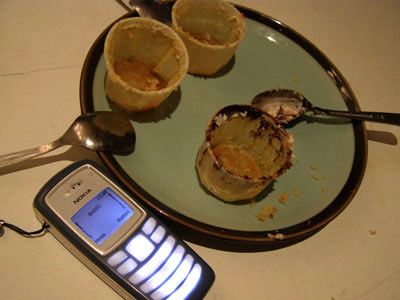 Size comparison of the cups, with Nokia 1100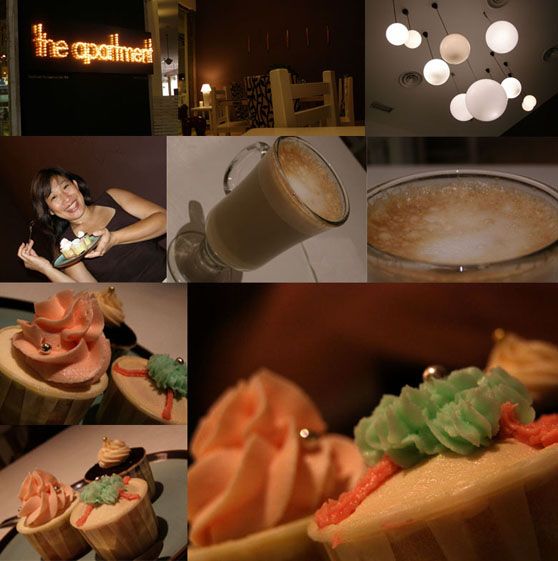 The Apartment: Cuppacakes
Shopped till around 6 and went back to pack our stuff a bit. Sis sent us to Pudu and we took a 7.30pm bus to Malacca. The amount of sweaty smelly ppl and stinky feet in there was...URGH! The guy behind us took off his shoes and both of us felt like puking. Sis covered her nose and kept staring at his feet and at him and he got the message. ROFL! Sis saved the day.
Bro picked us up from Malacca Sentral and his friend took us to eat Sate Celup. Sis been wanting to stuff herself with Malaccan food for awhile but never find the time to do so (prolly cuz she usually gets stuck shopping in KL instead... :P )...too bad we didn't have the car to ourself and it was already kinda late when we were there. Otherwise, could have brought her makan more places. Bro sent us to my place in B.Beruang and we spent the night at my place. Sis was glued to my PC for net, and I was busy clearing the house. Mosquitoes, were crazy. Damn bloodsuckers.
Bro woke us up to tell us he was coming in 15 mins time (WTF...we told him to wake us up an hour earlier!). Took us to lunch at some chicken rice ball shop in Malim. And I had fun camwhoring my baby niece. So damn cute. And hyper.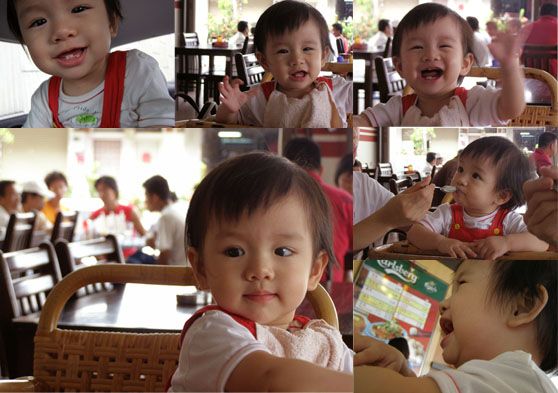 Shots of Minn-Yi in the restaurant
We paid a visit to my bro's friend's parent's farm near Malacca Sentral area. It was raining heavily when we got there so we couldn't really see much of the place. The farm looked nice and pleasant. Bro's friend collected a number of 'sample' plants for him to bring back and plant. My bro's a plant freak, so yeah. The rain lifted as we were about to leave, so I grabbed my cam and started looking for nice shots.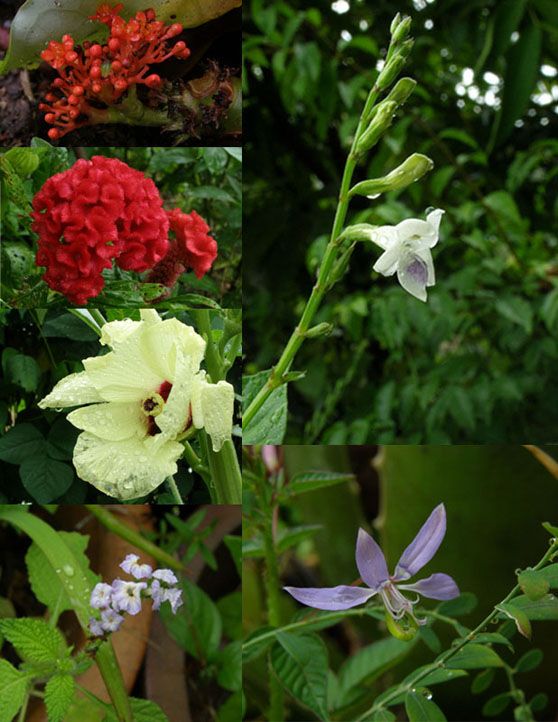 Flowers in the farm
Left for KL after that, and arrived about 2+hours later (gawd..bro drove so slow x.x). Went to my 4th aunt's place and met up with my sis there. She took us to Pasar Malam in SS2 (Monday) and bought something to eat for dinner. Aunt was having vegetarian so we didn't wanna bother her to cook for us. Sis treated us to some very thick fruit juice. It was so sour but at the same time, very refreshing. Felt like rinsing the body system with it. Bought a hair clip that I really like. So cheap - RM2.80. Go to any shopping mall and you'd get the same thing for around RM5 if you're lucky. RM8 for good ones. Went to buy this really nice 'thong sui' from a famous stall at one corner of the pasar malam. This guy sells really really nice and smooth peanut thong sui. Had to wait for about 10-15 mins to tapau but it was so worth it (tips: if you want it fast, eat there. He serves them first). Bought asam laksa from the stall beside it, and it taste so good! Too bad so little fish in it though.
Had dinner and set off for Penang. Awfully long journey home with multiple stops. Slept half of the journey off. The traffic from the opposite direction was...scary. They had this very very long line from Jelapang tol stretching until after the underground tunnel area (i think..can't remem) Thankfully, the lanes were clear on our side.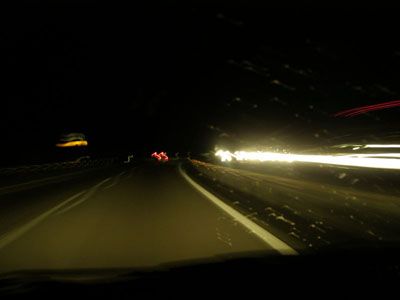 Journey home. Traffic jam on the opposite lane.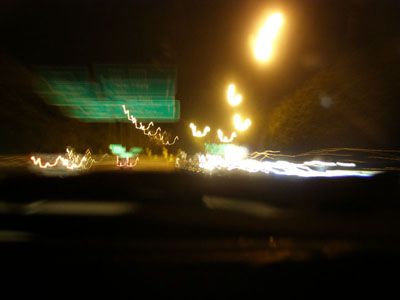 Bored. I was bored.
Reach bro's place around 2 and unloaded the luggage and shopping loots. Set up his PC and...nyehehehe....
Didn't sleep till around 7 (fell asleep
trying
to watch Gundam 00 Ep 2)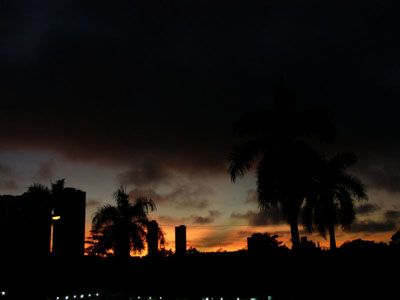 View from bro's apartment at dawn.
Gah, forgot to crop.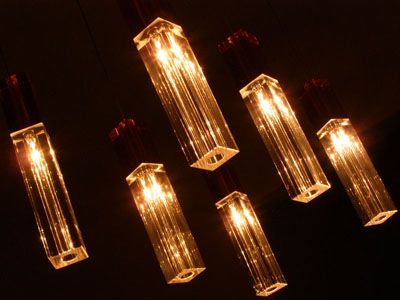 Bro's RM2k ceiling lights
Closeup
Been watching Grey's Anatomy Season 4 these few days. Episode 4's out tmr (and I can't download...dang!). Currently still in Penang. Parents say they're coming down today (for some errands) so I get a free ride home. Yay! Can't wait to see Fifi...that furball.
So that's pretty much my hols for week 1. Parents plan to go Genting next week but I'm thinking bout giving it a miss. Travelling to and fro KL so often isn't really my idea of fun. Plus, I've been to Genting so often these past few years. And having your sister bribing you free sushi buffet if I stay and accompany her in Penang, doesn't convince me to go Genting.
So, hows your hols?