I'm home....but it doesn't feel like home...why's it so quiet?
Well...mum's off to Russia (her yearly 'out of the country' vacation...sigh...so nice)...aunt's off to Penang to take care of my bro's daughter (since her baby-sitter went eye operation...swt) so its just my dad, the dog, and me at home. Well at least I have TV/aircon/good bed/car/(quite) good food/dog to chase around/good PC+internet access/etcetcetc...so yeah....I'm good.
Fifi's pawing me begging for apple... /feeds
So I would have thought dad and I are gonna go eat out every day rite? Turns out...dad's bleh to go eat outside ade....so he asked if I can cook. So yesterday after breakfast (very nice fish soup bihun...so long never had such nice breakfast ade), dad brought me to the local pasar and bought ingredients...so fun to buy things when you don't have to pay...lol!
I made fishball (with mix of those ...fishball-like things u eat in steamboat) cabbage soup, Japanese tofu+chicken and asparagus cooked with sambal belacan and prawn (first time cooking...haha!) Turned out quite well...at least dad din complain and said the asparagus were ok eventho its the first time cooking (had to call aunt up to ask her how to cook asparagus with sambal..since dad wanted it to be a lil spicy....swt)...
Lucky my house quite well stocked...she had belacan, cili, shallots and dried shrimp....I just had to blend them...kekkeke...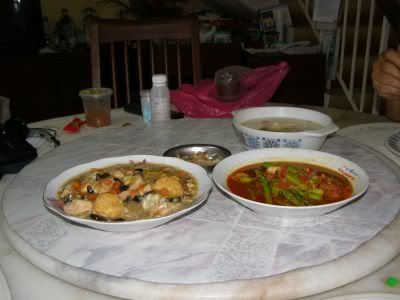 Dad surprised me when he bought big prawns yesterday...so again, I had to call aunt up to ask her
Me: Eh...how to cook aa...big prawns?
Aunt:
Errr...how big?
Me: ...big la...like tiger prawn.
Me:
...wa...he bought aa?


Had fried prawn (with salt, soya sauce and ajinomoto...its dat simple), steamed fish (with dark&light soya sauce and fried shallot+ginger...simple but taste great) and sawi fried with oyster sauce....and yesterday's soup...hehee...Dad says its much better than when mum cooks (in my house, aunt cooks. Mum doesn't)...cuz she usually makes the real simple ones and doesn't bother with troublesome menu....so....I'll take that as a compliment :D ..haha.
Gonna make lemon chicken tmr...hope dad likes it. :D
Going Penang this Friday. Sis says there's Chilis there now....gonna belanja...yay!
On a totally different matter, Fifi's scent of smell (and...ermm...voice recognition?) has improved IMO. Came back yday and didn't even got near her cage...can already hear her jumping up and down and whimpering behind in the kitchen. Was so excited (but THANKFULLY didn't pee on me this time)...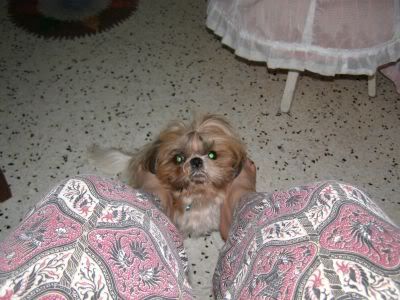 Fifi bugging me whenever I'm on my comp
Mmmm...hope mum gets something nice for me from Russia...wonder what she got me from K.Kinabalu lately...hee~
Laters... :D
p/s: Fifi snores when she sleeps....