Tesco is like, my family's favourite hangout. Now that they've open another Tesco (Extra) in the little small town of SP, they lagi suka go.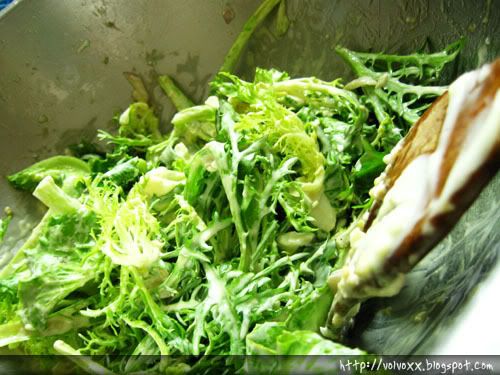 Salad's great for a simple meal
During one of these excursion, I saw some salad-greens that were marked down. Mainly cuz they look wilted and not so appetizing. A good dip in cold water would easily fix that! Bought two types for less than RM2...and it was enough to last my whole family 2 meals (okay, they're not exactly salad-eaters).

Here's a simple recipe for salad dressing

Salad with Mayonnaise and Balsamic Vinegar Dressing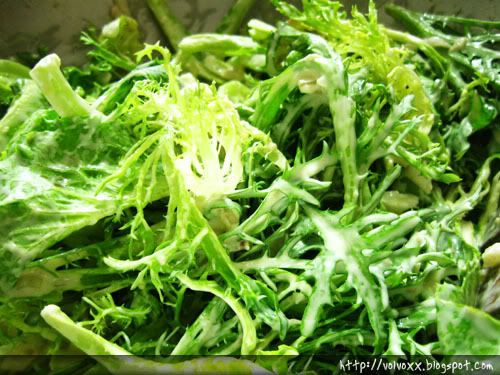 Ingredients:
Salad leaves of your choice (enough for 3-4 serving)
2 tbsp mayonnaise
3 tbsp olive oil
1/2 tbsp balsamic vinegar
1/2 tsp yellow mustard
1 hard boiled egg, mashed
1 clove of garlic, puréed/grated
1 small onion, diced finely
dash of black pepper
dash of Italian herbs (or any other herbs, optional)


Method:

Soak salad leaves in cold water until leaves are firm. Rinse and dry the leaves as much as possible.
Mix all the dressing ingredients in a bowl.
Put the salad leaves in a large mixing bowl. Pour dressing over salad and toss evenly.
Note: Serves 3-4. Half the dressing recipe if you're preparing less. Add croutons if preferable.