Haven't been posting anything constructive since I finished my FYP Part 1 Presentation....hehe...things kinda slowed down after I finished my pile of assignments and FYP Part 1 and 2 more lab reports....for a bout a week or to la...in that time there was much sleep catching up, LAN games, and etc...the calm before the storm.
Then there was finals. Had first of my 3 papers in the first 4 days of exam, then it was almost a week before my final paper...then some spring cleaning and lotsa sleep to catch up...and then there was gatherings/farewells, makan good food (haven't spent so much for so much good food in a while), reminiscence, chats, camwhoring, and movies.
Then there were goodbyes.
There's still a whole load of pics I haven't processed, for the ones I've processed, I've uploaded to Facebook (EMiNA's last gathering...have emailed to the ppl who attended too but if you didn't get the mail, drop me a comment/mail)
I've got one more sem to go but most of the people I know are leaving...as QJ says, "It won't be the last time you'll be seeing them, unless you make it so" (....so I hope you guys don't forget to send me invitation card when you guys get married...hahaha! I'll remember to ;P )
I'm done packing for the short holiday back home. Home...as in...um...alot of detour before hitting the nest. First stop's KL for a few days...check out some new places, then to Penang to hang out with Shindee (gosh there's this very nice looking bakery that I really really wanna check out, Rainforest Bakery and Pastry. Blogs and maps:
Gourmet Garden
,
what2seeonline
,
Thestar
,
GoogleMap
...)...then back home for a week. Mum will strangle me if she was in Malaysia (she's in Tibet...having fun...w/o me...sob) ....so..that means no net=no blog (alasan! HAHAHA)
Here's some pics of the gathering the other day.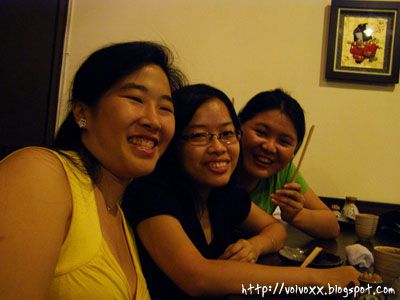 Some of the best things to have happened in my life.
(sayang dun jealous ok? :P)
Some of the best people I've worked with and have the privellage to know.
EMiNA (or rather, GACC) was also the reason QJ and I are together ;)
(left): QJ, me, Loo Mun, Lisa, Lynn
(right): Khurshid, Yuhi, Edo, Shu Yin, Dexter
(penang): Shindee & Rabbits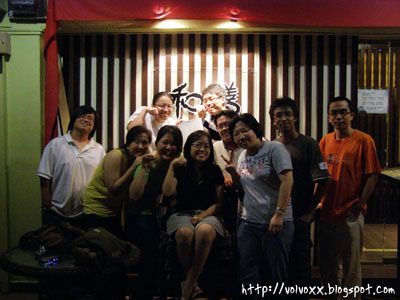 Till the next time I feel like writing (hopefully if I get my hands on my sis' lappy while she's asleep :P)....taa~